Friday April 29, 2022
This aerial photograph shows the Parochial Charities almshouse development taking shape at the end of More's Meadow.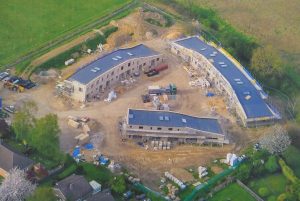 Over the past few weeks much of the scaffolding has been taken down and work on the interiors is now underway. Subject to weather and materials availability, our contractor aims to complete the development by year end.
The twenty one new units – a mix of 1, 2 and 3 bedroom homes – are grouped in three terraces set around a central landscaped green. The properties feature high standards of energy efficiency and are designed to keep running costs low.
Once complete, this will bring to fifty three the total number of almshouse properties owned and maintained by Great Shelford Parochial Charities.
Further information may be found at https://gsvc.org.uk/our-new-almshouses/