Tuesday March 08, 2022
We were very pleased to see Parochial Charities trustee, Keith Sugden, receive the Local Hero Community Award at this year's annual parish meeting. This was attended by villagers, councillors and local MP, Anthony Browne. Keith's award was in recognition of his work transforming two fields in Great Shelford into a widely used village amenity focussed on conservation, recreation and communal gardening.
This was far from being a shovel-ready project, and over the space of two years Keith worked tirelessly applying for grants, tapping local suppliers, rounding up volunteers, engaging with schools and placating anxious neighbours. He oversaw the planting of some 270 trees, 200m of hedgerow and a wildflower meadow, as well as the establishment of allotments, a community orchard and garden.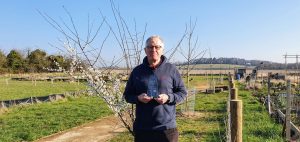 Thanks to Keith's outreach, many of the saplings were planted by village schoolchildren as part of their Forest School initiative, while others were planted by students as part of their Duke of Edinburgh award scheme.
The community garden, with its raised beds accessible to wheelchair users, is now managed by volunteers. Future plans include the sowing of a winter birdfeed plot and the establishment of a sensory garden for the benefit of local nursing home residents. Already, there is a waiting list for the allotments.
The two fields, some six acres in all, are freely accessible via entrances at More's Meadow, Bridge Close and The Hectare, as well as from the DNA cycleway via the railway footbridge. Many villagers come simply to sit and enjoy the view towards the Gog Magog Hills.
A heartfelt thanks to Keith for his dedication and hard work. Don't stop!
A huge thanks also to the private donors who funded much of this work.