Wednesday January 22, 2020
Some 70 villagers attended last night's public meeting to consider the Parochial Charities' plans to build 21 almshouses in the village.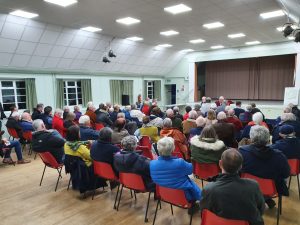 Organised by the Parish Council and chaired by councillors Barbara Kettel and Malcolm Watson, the meeting began with a brief introduction to the Parochial Charities by Dr Sarah Rann, Chair of Trustees. The scheme architect, Rowan Haysom of Haysom Ward Miller, then presented the proposed design of the almshouses and the associated landscaping.
There were no objections to the plans though some reservations were expressed concerning car parking, Green Belt encroachment and flood risk. It was clear that most of those present supported building more affordable housing in the village.
The Parish Council Planning Committee will meet on 22 January to consider their response to the planning application.
The planning application itself can be found here on the South Cambs District Council website.